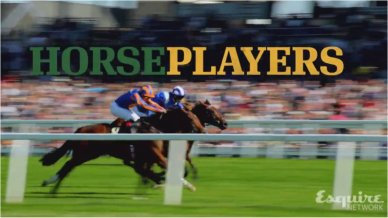 I had my DVR set, locked myself in the man-cave, and created the perfect atmosphere. After watching the reality show about the wide world of wagering, I had some mixed feelings. But overall, it was good entertainment.
I connected to the Twitter-sphere and wanted to see what racing fans had to say. The answers ranged from nit-picky details about odds, the Trevor Denman impersonation, and some cry babies who wanted to be on set. Well, if you are looking to nit-pick the show, why don't you try "Honey Boo-Boo or Moonshiners." If the odds bothered you, just get over it. Groupie Doll at (20-1), or making $2,500 win bets will magically change a (9-1) shot to (5-1). OK, we get it… It feels like a male targeted audience shot but it's still a great opportunity to showcase the sport. Try waving your magic wand to grab the interest of gamblers. You'll have better luck hitting the pick six, keeping your New Year's resolutions and winning the lottery. The real players keep to themselves. And for the ones that don't, you sure wished they would find another seat.
I found some comments and articles of interest about the new series. Teresa Genaro hit it on the nose with her article in Forbes. She chatted with Tina Gazzerro Clapp, Go Go Luckey president and executive producer of the series "I'm a fan first." She said, "Horse racing is a really rich, beautiful world. There's a lot of action, it's a fun community, and the athletes are amazing." Aimed at males in their late 20s to early 40s, Horseplayers will (Gazzerro Clapp hopes) dispel some of the stereotypes associated with the racetrack. "People have a misconception about horse racing," she said. "They think it's really degenerate or it's fixed or that it's about doping or that it's stuffy. It's none of those things, and I'd love to see a younger racetrack crowd out there. It's a fun, cheap day. And it makes a lot of sense for young people."
If you've ever been to the track or read anything on Winning Ponies, "the best part of the sport are the colorful characters who are the backbone of the game." I have worked in racing for over 20-years, and the people are still the most interesting part. Being at the track is the great melting pot. You have everything from soup to nuts as far as characters, and that keeps you watching.
I loved John Conte as he broke down his bets and even gave a brief explanation of what he needed to happen for his ship to come in. I felt it when he said, "Don't wish me good luck to the teller at the window. If you do, I never win." Every player has rituals, mojo methods, and secret weapons to winning. I have played in contests against him, and what you see is what you get. He is the typical player, and don't get him out of routine. That goes from breakfast in the track kitchen to hanging out with Soprano-like friends.
"Team Rotondo" was an interesting group. They were made up of a father-son combo and a family friend. I liked the energy, and Rotondo knows racing as he is the Breeders' Cup vice-president of media and entertainment. They played with both hands and didn't blink… The addition of the wives was a little much. But hey, a little "Lady Luck" never hurt anyone except the jealous viewers who watched the elder Rotondo show off his 22-yr-old bride.
The wildcard was Christian Hellmers. He was that "Zen-like" guru who had his lucky scents to clear his head and focused on the energy he could send to the horses. I did get a kick from this segment as he was playing in the Breeders' Cup big money tournament at Santa Anita. You either qualify or pay the $10,000 to enter. Something tells me he made his way in by handicapping like a mad-man. But he was concentrating on something called "muscle testing." It's applied kinesology, and he wants to know what his body thinks. At first glance you would've pictured him on a surf board as he got out of the water to beat the races. He has spent over a decade developing a mathematical model to predict races by crunching data and watching race replays. He was great as the tournament player who ran second the year prior, and pulled off the same placing against the repeat winner.
Episode #1 is in the books and I can't wait until next Tuesday. Once upon a time there was a crazy idea of watching people play poker on the biggest stage. It was doomed to fail, as who would sit and watch others play cards? Well, I'm not sure if they have the next World Series of Poker but they've found something interesting. So much of racing is about the inside connections of riders, trainers, and owners. Most of who we'll never meet unless you're a part of the rich and famous. But this has a little different feel. These people sit among you, they play against you in tournaments, and they're the ones who are laughing their way to the cashier's window. You have my attention, and I'll see you next Tuesday at 10:00 pm.