I had done my daily routine and found myself getting ready for bed at 5pm. What? – I know, we're all a little off track these days. – That was until I checked in on the tracks running. To my surprise, Fonner Park was running and it was like a bright light in the world of racing fans.
My betting menu includes New York and Kentucky. Sprinkle in some California and Florida in the winter. – Yeah, that about covers every track running after looking back at my words.
But yesterday was a little different. – When I noticed Fonner was racing it picked up my spirits. Not much of a fan of the circuit as I would normally prefer Belmont, Keeneland, or Churchill. – This was not the case. I found myself diving in and enjoying the action. Funny how fickle horseplayers can be when it comes to having a day at the races.
On social media, other fans are on the same boat. We're just happy to see the races running. Something so simple can make life feel normal. – I'm reading how everyone jumped into the pool yesterday. The pick-five pool. It had a whopping $3.6 million wagered on the final five races of the card. – Just the tonic for a day sitting around the house.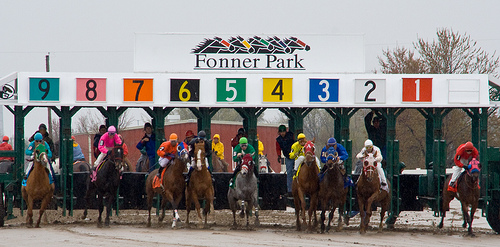 If you're sitting around the house (which we all should be) take a gander at the races. If you aren't a regular player just download your Winning Ponies E-Z Win Forms and make a couple wagers. I think you'll fall in love all over again. Today you can watch and wager on Tampa Bay Downs, Will Rogers Downs, and Fonner Park. The action starts up at 12:30 pm EDT and should take you through 7 pm EDT. – Sound like fun? You bet it is! – What are ya' waiting for? It's almost post time!