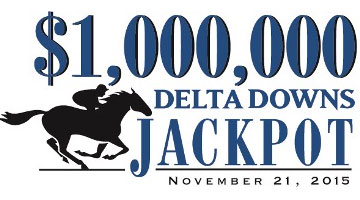 This Saturday is a big day at Delta Downs. – The unveil a day-of-days with the $1,000,000 Delta Downs Jackpot card. – There will be 11 exciting races with more than $2.3 million dollars in total purses, highlighted by the $200,000 Jackpot Day Guaranteed All-Stakes Pick 4…Races 4-7. You will be in action all day long.  – Winning Ponies will be all dialed in, and your E-Z Win Forms are ready and waiting. – Early in the morning there is a good chance for some rain, but it looks to diminish as they get closer to post time. – Who said there is no such thing as a free lunch ? – The card looks to give a pretty good glimpse of what awaits down the road. Sit back, down load your E-Z Win Forms, and get ready to cash some solid wagers !
Race #4 – $150,000 Louisiana Legacy – 1 mile
The top tier levels have some nice value to kick off the $200,000 Guaranteed Pick-Four, and you'll want to have a wager involved in this multi-race wager.
Race #4 = The top tier runners #10 Sea Vow is (6-1), and owns the Monster Work icon, Should Improve, and Moving in Class handicapping icon. With a 53+ Last Race Rating, and 49 Composite Rating are enough to get you thinking about the added distance which should play to an up-close trip. – #7 G's Josh (7-2) owns a 52+ and a 45 Composite number. He sports a Monster Work, Has Improved, and Should Improve handicapping icons. – #4 – Our Rapidash (2-1) sports the Monster Workout, and Layoff of 45 Days icons.
Race #5 = The $250,000 Delta Mile – Focusing on the two of the top tier selections, I don't think you'll need to look any further. – #1 – Departing (8-5) – This son of War Front owns the field top LRR and CR of 58 and 54, and with Colby Hernandez (29%) for Al Stall should make all the difference. – #7 – Cougar Ridge (7-2) – Sports solid numbers with 57+ and 53, and with the hot hand of Corey Lanerie in the irons will help the cause.
Race #6 = The Delta Princess = #6 – La Appassionata (3-5) is in the top selections and could very well be a single in the exotics. – This daughter of Bernardini owns the top figures of 57 and 55 in this field. – Gerard Melancon in the irons (20%) knows his way to the winner's circle, and Steve Asmussen (20%) is no stranger as well.
Race #7 = The $1,000,000 G-3 Delta Downs Jackpot = This race has given us a good glimpse of good things to watch, and you need to keep this race on your races to watch for the day. – Winning Ponies is not always going to have the chalk or big favorite in the top tiers, so you'll want to examine the E-Z Win Forms for the hidden nuggets of gold. Here are some of the runners named in the top tier levels.
#2 – Memories of Winter (10-1)
#1 – Forevamo (4-1)
#7 – Found Money (6-1)
#4 – Whitmore (8-1)
This should get your blood pumping, and ready to dig into your E-Z Win Forms ! – Your friends at Winning Ponies wish you the best of luck, and be sure to check out the Artie Shiller Stakes at Aqueduct, the G-3 My Charmer at Gulfstream West, the G-3 Tropical Turf at Gulfstream West, the G-3 Red Carpet at Del Mar, and the G-3 Cardinal Handicap at Churchill Downs. – There is always plenty of action on the docket, and Winning Ponies has your back. Be sure to follow up with the podcast of our Winning Ponies Internet Show, as John Englehardt had on some incredible guests, and Mary Rampellini who covers the south racing action for the Daily Racing Form for her unique insights and selections. – So what are you waiting for ? – It's almost post time !