The day started like any other as I made my way to work. I like to get there early to beat the traffic, prepare for the day and look over the track as the tractors put finishing touches on the surface. The sun was hot and the air was filled with thick humidity you could cut with a knife. The walk from the car would put a gleam of sweat across your brow, and when you walked into the cool building it was a welcome relief from the brutal heat. As I settled in and started unpacking my bag. I noticed a small rider dressed in his pants and boots and a white shirt. He was walking through the winner's circle on his way to the edges of the track.
He was walking back and forth digging the toe of his shiny black boot into the surface. A bounce here and there and looking at the rail for depth. – It had the look of a boxer readying for the big match.  – I grabbed my binoculars and took a closer look at the rider. As I focused in on the short blond man coming into focus. He had a look of study and a steely gaze in his eyes. – As I was watching from afar the phone rang. – The voice on the other end was one of the marketing managers. " Ed, do you think Perry Ouzts will get the record today?" – As I watched with binoculars and listening to my call only a few words came to mind. – " Yes, this is the day. He has the look of a prize fighter waiting to get in the ring. If he wins the first, get everyone together for the winner's circle celebration. He'll roll them off quickly today. He's ready." 
The first race was with Huginn (Hu-Gin) and he scored by five lengths for his main man Larry Smith – They are winning (28%) together as a team and in a typical Ouzts fashion he went wire-to-wire. – The phone rang again and I gave them the same message as earlier. "Just get ready. He'll get the other three wins today in quick order. His win record stood at 6,792 when he rode his black Harley Davidson into the parking area. He was 11th behind Hall of Fame rider Jorge Velasquez. – Pretty strong company to be compared, and notching your wins on the small oval can be a bit more tricky. No huge graded winners that cruise home easily, as he did his winning on cheap claimers and allowance runners. His biggest win was in 2007 aboard Old Man Buck in the $200,000 Miller Lite Cradle Stakes at River Downs.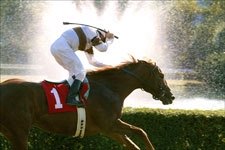 Perry Wayne Ouzts hails from Rivervale, Arkansas being raised with cousins Jackie and Earlie Fires. – Jackie's career was cut short due to an injury that left him paralyzed in 1977, and Earlie Fires was a longtime speed demon rider on the Chicago circuit. Perry never wanted to be the best rider in the world. He once said; "I just wanted to be the best rider in Rivervale." – That statement was larger than life as Earlie Fires is 12th on the all-time winning list for Thoroughbred racing.
Perry couldn't win the 2nd race as he didn't have a mount. – Race #3 had him drawing away by 5 with Sweet Angel Rose for another long time trainer he rode, Ron Kahles. This left two more for history for the 63-yr-old who looked more like 25 when he drives for home with a wicked left-hand stick reminding his mount to go to work.
Race #4 had Perry aboard Funnel Cake for trainer Thomas Amoss and owner Maggi Moss. – His runner dropped him in the post parade and ran around in circles as outriders tried to corral him back when Perry Ouzts stepped up and raised his hand when Funnel Cake just walked up gently and Perry got a leg back up. When they broke from the gate Perry went right to the front and didn't look back. – This race tied him with Jorge Velasquez and was the first  winner for sire Kettle Corn who may be one to watch for future progeny. 
One win away from history for the gentleman rider who was cool as a cucumber trotting back slowly to the winner's circle as if he was savoring every second like he always does. He just takes his time relishing the victory like it was his first. – He was a long way from Beulah Park in 1973 when he rode his first winner Rablu for trainer W.J. Danner. – This small man with the heart of a lion was one away from history. When you make the top ten in anything, you're in rarefied air.
Race #5 – had him aboard a gray named SilverDollarDreams for trainer Thomas Amoss and Maggi Moss. – This would two-in-a-row for the connections if Perry could guide him home. – He broke 4th and was up close in the two path staying out of trouble. As they started into the far turn I could see his mount accelerate and Perry looked to be loaded. He snatched the lead at the top of the lane and my heart started beating fiercely. I could feel the sweat run down my back when I said at the 1/8th pole that "history stands in the balance." – A couple of strides later Perry went to his patented left-hand stick and began to draw off when I said the first thing that came to mind; " Ladies and gentlemen you are seeing history in the making as Perry Ouzts cruises for home becoming the 10th all-time leading rider."
Perry doesn't celebrate, and when I watched him crank his arm in a winners motion I knew this was a weight off his shoulders as he had finally done it. – Perry Wayne Ouzts was a long way from Rivervale, Arkansas and he was the 10th winningest rider in Thoroughbred history. – As he came back to the winner's circle he raised both arms like he was taking flight. – He had made it and was celebrating like a young boy savoring the moment. As he popped off his horse he immediately went over to his wife Toni and gave her the biggest hug. – I called down to the jock's room and congratulated Perry. His humble thank you was exactly what I was expecting, and told him what a pleasure it has been watching him ply his trade these many years. – Perry chuckled and thanked me once again. It was his next words that gave me a glimpse of the competitor Perry Wayne Ouzts has always been. – "Ed, I'm going after Mario Pino next. He's my next target. " – That summed it up for the man from Rivervale, Arkansas. He enjoyed the moment but was ready to go back to work. – Congratulations, Perry Ouzts. Job well done my friend, long may you ride!