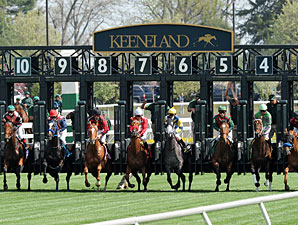 Well, the headline may be a little deceiving. Keeneland has been serving up the best in Thoroughbred racing since 1936. There was a speedy track that was one of the target races for the Kentucky Derby long before they served up the first bowl of burgoo. The Bluegrass Stakes was a 1 1/8th test that gave the racing world more than it's fair share of Derby winners. – That being said, Keeneland has been an innovator in the world of racing. They pulled up the poly track, and PRESTO! – Lexington, Kentucky will play host to the Breeders' Cup in 2015. Dirt racing is preferred in the states, but there are some tracks that benefit greatly from the poly track located in harsh winter climates. Keeneland races 15 days in October and April, and this may be the best slice of weather in the country. I have never been a real fan of synthetic surfaces, but I learned to overcome many obstacles because my favorite track sported the rubber coated wonder. Did I mention they pulled up the poly and dirt racing is returning? Yep, real racing is returning to Keeneland, and there are handicappers who have been dreaming about this for years.
Martin "Mad-Genius" Collins felt  racing surfaces in England were less than satisfactory. That led to deeper research, and he invented a surface made of wax-coated sand, rubber, and synthetic fibers. Translation A racing surface that would be forgiving to Thoroughbred athletes, and would allow for racing on a safe draining fast track. The times were not going to break any records for the most part, and there were barns who targeted Keeneland, Woodbine, Presque Isle, and Turfway Park. Everything appeared as if the new answer had arrived, and industry leaders heralded this as the new savoir. They spared no expense, and the tracks had visions of record-breaking handles dancing in their heads. But there was only one item that was left off the table. "How would the handicapper/bettor take to the track?" Well, after a period of time and plenty of complaining. Handicappers are a resilient source. They started playing, and some did well following the well-laid plans of successful trainers who excelled on the synthetic ovals. But, there was always a hesitation among real horseplayers, and bigger players selectively chose races, and they fell deeper in love with the lush greensward of Keeneland.
I'm not going to slam the idea of safety, but Keeneland had resources to create the best dirt surface on the planet. They could ship in dirt, sand, and silt from the moon if needed. No person in their right mind could ever question they were leaders in every facet of the game. From a track that tolerated racing and focused on world class horse sales, hooked to the outside and passed up every track in the nation. They used to have eight races and one daily-double. If you look at the wagering menu, you will see some of the most attractive ideas in the sport. Just to think, this all started with the "Omni" wager long ago. Would you have ever thought the "gem" of Thoroughbred racing would be the leader of the pack in every aspect of the sport? I surely did, and it takes me back long ago during my interview. "Ed, what do you think of poly track racing?" After a long pause and sweat starting to roll down my brow, they kindly interrupted with, "we feel the same." They were all about safety and doing the right thing for racing.
In 2001, Lingfield Race Course in England became the first track to install Polytrack. Trainers and owners there gave it good reviews. Few horses broke down, the track held up to the English winter, and because Polytrack particles are coated in wax and there was a good drainage system, the track always dried out so quickly that there was never a muddy or sloppy surface according to a New York Times article in 2006, written by Bill Finley. Noticing Polytrack's impact in England, the management at Keeneland Race Course in Lexington, Kentucky became convinced there would be benefits to making the switch. Keeneland converted its training-track surface to Polytrack in the fall of 2004 and became partners with Collins in an effort to market the new track in the United States. The next step came when Turfway Park in northern Kentucky, which is owned by Keeneland in partnership with Harrah's Entertainment, was converted to Polytrack. The first American race on a Polytrack surface took place Sept. 7 when Turfway opened its fall meet.
Bob Baffert, Kentucky Derby-winning trainer and one of artificial surfaces' top critics, was quoted in an ESPN article, saying he believes many owners and trainers with large stables have moved horses east strictly because of the synthetic mandate. Many trainers have publicly admitted to refusing to run at tracks that install an artificial surface, and a few include Keeneland in their blacklist. Keeneland installed a Polytrack surface in 2006. But if you contact top Canadian trainer Mark Casse, he may feel a little differently. He bounced along with change and became a major player on every synthetic surface. We can close the poly-history books, and look forward to the future of a state-of-the-art surface, as we know the Lexington track does things one way. Sparing no expense, and putting the safety of the horses first and foremost.
This weekend is a holiday, my birthday, and every celebration during the year. I loved the dirt racing, and can't recall too many losing days. I know it won't be the "golden conveyor belt of speed" as it was known for years. Or, will it return to the old days? This is where time will tell, and handicappers will have eyes peeled as the first race goes to post. I will be in my booth watching the action between live races at Belterra Park, and plan a couple of dark day trips to see the new track. For this handicapper, I can't wait to see dirt racing return. I have always believed in the Keeneland motto: "Racing as it was meant to be."