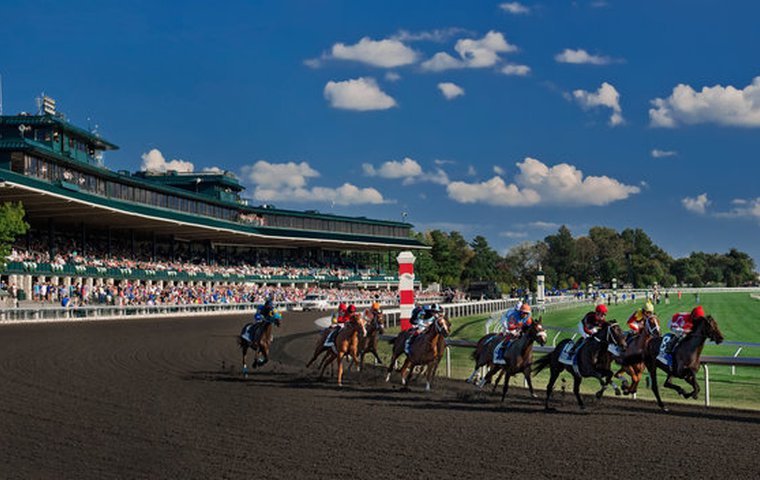 Hard to believe the big weekend is upon. – The year is one of the books, but we're still getting ready for the big event. – There won't be any fans on track, but rest assured every ADW and OTB will have plenty of action from hungry players. – Be sure to check back as the week progresses as I'll have a "first glance" at horses to watch, and after the post draw today we'll narrow our focus. Best of luck!
Friday 
Juvenile Turf Sprint
This is the 3rd running of this race and US runners are 2 for 2. Keep your eyes peeled for Wesley Ward as he stables, trains, and wins over the KEE surface.
Here are some runners to take an early look at:
Golden Pal = Coming in for Wesley Ward and ran well at Ascot.
Amanzi Yimpilo = Ward filly who has tactical speed and should get a perfect trip.
Windy City Red = Should get a good stalking trip and had a good finish to "Amanzi" last out.
Juvenile Turf
This race has been kind to the Euros in the past.
Sealiway = Seeks a stalking trip to come calling late with a solid late punch.
Fire At Will = Late runner who can upset the apple cart.
New Mandate = Seeking a 4th win and should sit just off the pace
Juvenile Fillies
You'll want to follow runners that have been competing recently in the past 45 days.
Simply Ravishing = Has done well running long and is training nicely up to the race.
Crazy Beautiful = She has a strong late kick and will come calling.
Dayoutoftheoffice = Stalker who will be seeking a spot in mid-pack to pounce on the leaders.
Juvenile Fillies Turf
Runners who have a trip over the track and been training in Lexington will have an edge.
Campanelle = Stalker who gets back to facing the boys from the Wesley Ward barn.
Editor At Large = Big late runner with a very strong late kick.
Plum Ali = Christophe Clement trainee who has won three straight looking better each time out.
Juvenile
Look for runners who posted a big effort last race.
Jackie's Warrior = Exits the Champagne and makes a two-turn effort. – Should be right on the scene heading into the turn.
Rombauer = Late runner who may be peaking at the right time.
Sittin On Go = Dale Romans trainee who has a good late run. Keep an eye on how this charge acclimates to the activities leading up to the race.