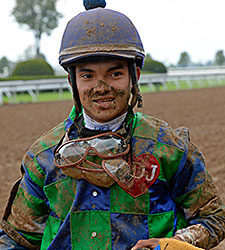 Over the years you have learned about my love of racing.  I made early treks with my dad, and we would talk all the way there. He would regale me with tales of the big ones that got away, and the runners that lay ahead in our visit to the track.  We saw close finishes, and I watched as he cashed big winners. The sport that gave this father and son a common bond that would eventually become my occupational choice. Over the years I have witnessed events that made me smile, and others that left me searching for answers. This morning, I sadly added another to my list.
The first mount I watched Juan Saez ride, I thought I had a golden secret. Well, it didn't take long for the racing world to see his budding ability, and seasoned race-trackers knew it would be a matter of time before he would take his game to the next level. A native of Panama, and the top graduating student of the world-renowned Laffit Pincay Panamanian Jockey school. He made his way to the United States to join his older brother Luis Saez, looking to surpass his brother's accomplishments. He registered 51 wins from 194 starts, and owned a promising 46% ITM clip. The future looked bright ahead, as he was splitting time between Indiana Grand Racing and Casino, and Keeneland. At 17-years of age, he grabbed the attention of the racing world with his immense gift for riding horses.
As we enjoy the beauty and pageantry of the sport, there is the another side of that is seldom spoken about. Riders talk, prepare, and get ready to ply their trade. They stretch, weigh in, and make the walk to the paddock.  They know the dangers of the sport. You'll see prayers and meditation in the jock's room, and the ever-present track chaplain is never far away. It's the 2,000 pound elephant in the room, and the agile riders maneuver around the beast with faith and preparation. Riders know when you start thinking about the danger, its time to hang up your tack. According to statistics from the Jockey's Guild, Juan Saez was the 153rd rider to be killed in a race since 1940 in North America.
It was a chilly afternoon in Chicago, and Sportsman's Park was open for business. A blossoming young rider who had ridden that past summer at River Downs, had shifted his tack to the Chicago circuit for the winter. Sportsman's Park was known a "bull ring" where the turns were tight and banked. Rodney Dickens was a gifted rider who had a promising future. When his mount Rough Pride stumbled over fallen runner Special Little Guy, Dickens was thrown head first and landed on his back. His mount regained his feet and took off in a panic run. – A shy, naïve, 20-year-old native of Owensboro, Kentucky, fell victim to the sport he loved. – When I made my first trip to Sportsman's Park many years later, I spent a great portion of the day thinking about the young man who was taken away too soon.
There was a rider who I chose to ride our cheap claimer. He was sound, hard-headed, and mean…. There was only one rider in the room who I wanted to ride State Budget. Mike Rowland a native of Saratoga Springs, New York was known for his strength and courageous ability in the saddle. He was gentle with speed, and could come from the clouds with closers. Needless to say, having Mike agree to take the mount was a great feeling. Two day later when he circle the field and got up by a nose. You could say I was hooked on Mike's abilities.  I went out for a few races one evening, and I was late. I knew I would catch the last four, and that was just fine. When I arrived, I could see multiple cars driving to the half mile pole going very fast. The ambulance hadn't even arrived, and I found out from my old boss that Mike Rowland had gone down in a spill. He went down in the 7th race aboard a horse called World Trade. He was leading at the time when his horse broke down and the two horses tracking could stop change their course. He was 41-years-old, and two wins away from 4,000 career victories.
These personal stories bring me full circle. When a rider is injured or worse, I feel it in my heart. – I love everything about Thoroughbred racing. To me, the stars of the sport are the people involved. When I started meeting the riders years ago, it brought me closer to the game. I love when one has three wins on the card, or a small time rider wins a big race. Jockeys are pound-for-pound the best athletes in the world. Strong, agile, and have the reflexes of lighting in a bottle. I love to see these small athletes make big things happen. When I first saw Juan Saez ride it was at Ellis Park. I got off work and stopped by the race book. I liked to watch a race or two before heading home. I saw he had a mount, and bet $4 in the blind on my new rider to watch. He didn't disappoint, and he didn't let me down the next race either. He was on my radar screen, and I started looking wherever he had a mount. That's what racing fans do. They love to follow the new and upcoming riders, as players loves to tell the tale they were watching him ride when he was just a kid. On Tuesday night at Indiana Grand, that is what racing fans were doing.
I enjoyed watching the young man ply his trade, and I would have loved to have rooted for Luis and Juan to battle it out to the wire. But, sadly we'll never know what could have been, and be thankful for the time we had with Juan Saez. Winning Ponies would like to extend our deepest condolences, and wish the family  peace during this tragic time. Racing has lost one of its own, and we all hurt. Juan, you will be missed, and you were taken away too soon. We are thankful for the time we were blessed with having you. May you rest in peace.