Normally I'd be happy for a few winners, and a chance to sit down for a one-of-a-kind meal at mom's table. But this year is a little different. Oh, I'm still grateful for her culinary delights, but there are a few more things on the table to give thanks. Fold your hands, bow your head, and give thanks for some of the wonderful things that have come your way.
If you're reading this. Give thanks. You're still here, and that is the greatest gift of all. Long before we follow our dreams and enjoy the sport of kings, give thanks for being here. Every year we grow a little older. No matter how we're doing we know some that are less fortunate, and many others who will no longer sit at the table with friends and family. Extend a hand to those less fortunate, and give thanks for the many who won't be joining us at the table. That was lesson I learned as a boy, and as a man I saw it put into action by some wonderful people on the backstretch. If you haven't made a trek to the barn area, go ahead and put it on your to-do-list. Day-in-day-out, the connections do battle on the track. But at the end of the day, you won't see folks any closer. They watch over each other, and it's an extended family. There have been many folks over the years who did wonderful acts of  mercy. There was one that exemplified the message of charity and kindness. Never one to turn someone away, he worked tireless with the help of many. They made things happen for those who needed a hand. This time of the season brings a smile to my face thinking of Father Frank Niehaus. He won't be here in body, but his spirit will live on in every act of kindness and charity.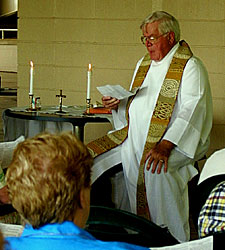 My Thanksgiving tradition continues to this day. Working at the track, you could count on working every holiday during the year minus Christmas and Easter. I still head out for a few races, and greet some faces from the past. Tracks run on the hard work and efforts of  dedicated folks who arrange their family lives around post time. They have an early or late dinner, and many bring in festive delights  for those who may be spending the evening alone. The front side just as the backstretch takes care of their own. It's a world within a world. Few places will you see the closeness of fellow workers who keep watch and have the interests of others. I guess it's just another reason that working at the track has been attractive.
Being thankful isn't just a month and half job. I know this guy who made it a year around labor of love. He used to buy, and carry in bottled water. He iced them down, and put them out for the outriders who may have the hottest job at a summer oval. He never asked for help from the big-bodied employees, and did it all on the down low. At Thanksgiving and Christmas he would take up an office collection, and delivered families a lavish spread to enjoy together. Now, this guy could be pain in my butt at times, but his acts of kindness overwhelmed me. He was always into something, and for the first few years I worked at the track, I watched him. His selfless acts of kindness came from long ago from an Irish home in Syracuse, New York. He taught me a great deal about the game. Oh, I may be the better gambler when we have our dollar handicapping contests ! – But the lessons he taught me were not long-winded lectures, or worrying about who gets the credit.  They were about acts of kindness and fellowship. To this day, I consider him to be my greatest mentor in racing, and a man I'm proud to call my friend. If you do not recognize him, you can join him each and every Thursday on the Winning Ponies Internet Show with John Englehardt.
As I get ready to slice into the perfectly bronzed turkey, there is a ritual that takes place at my home. We go around the table and each of us gives a special thanks for something or someone in our lives. This year there are so many, the dinner would get cold when I finished. So, if you wouldn't mind, I would like to give my special thanks to the following:
* Thank you to the great folks at Winning Ponies for allowing me to be a part of their team since 2008. Good people who care about the sport.
* The summer of 2014 was one that will be remembered for years to come. Thank you to John Englehardt, and the fine folks at Belterra Park. Getting to announce the races and hold down the job as odds-maker was a dream come true. – Thank you, and I'll see you in 2015!
* Thank you to the wonderful people I have met over the years. They have been the best part of racing.
* Thank you for health, opportunity, and the friendships that will last a lifetime. If I never pick another winner for the rest of my life, I'll consider myself one of the luckiest men around.
If this were the Academy Awards, not only would they have played me off stage, they would have sent security out to reel me in. Happy Thanksgiving from your friends at Winning Ponies. We wish you and yours the very best, and look forward to a Happy and Safe Holiday Season!