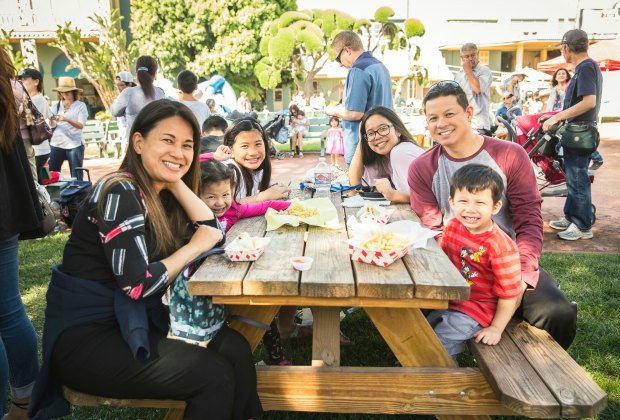 Racing fans rolled in through the doors with more kids than usual. I liked to see the families coming to the races as it took me back. – Back to a time when we would be sitting under a maple tree with blankets spread wide. The sun would shine through the leaves that made our camp cool for the day.  The smell of fried chicken wafted through the picnic baskets, and if you were good my grandma would give you a deviled egg. My dad and grandpa would venture off to do battle with cheap claimers as the kids hung back with my mom and grandma. – It was a family outing. Memorial Day, Father's Day and maybe one additional trip. The family was together and my love of racing began at a young age.
No phones or games and kids weren't hunkered around a TV. – Simpler times spending time together. – I'm pretty sure this was the last era that didn't have 200 channels and games galore. Just hearing my grandma speak and laugh was more fun than any video game. It was all in the backdrop of live racing action at River Downs. – Later my dad and gramps would venture back over for a plate and we would eat together. I guess that is a rarity these days as we eat in shifts and grab something on the run. – Sometimes we're so busy going and doing we forget to have a seat and take our time. – The times we'll remember long after the people we loved are gone.
I watched two little ones stand near the rail to pet an outrider's pony. – She guided him close and lowered the head of a beautiful chestnut. The kids delighted in a simple pleasure of petting and touching the big horse. The smell of a horse can stay with you forever. There's nothing like it.
Fast forward 25 years and I was working at River Downs. – The big maple has long been cut down and the picnic area a memory. – My job was director of marketing, and with the help of John Englehardt. We would have games for the kids and face painting after a pony ride. We both came from that era, and bringing back to life the family fun was important. There were t-shirts and flowers given out on Mother's Day and track hats with a sharp logo for Dad's Day. – Two middle age men who loved the time growing up wanted to pass it along. It wasn't about handle and betting on these days but having family fun at the races. – John was doing this 25 years before I got there, and I was shown the old ways still were fun. These were some of the best times working at the track. – As I left the races yesterday I heard two older gents talking as one said; "they must have run out of caps before we got here." – That made me smile on my walk to the car.
When I see an old cap on the head of a handicapper it makes me happy. It takes me back to sweating in the lower grandstand area passing out hats to all the players who had a coupon. – Greeting fans and friends and talking to the people one-on-one. No email or generic letter. Just a little banter about the horses and who we liked. The racing fans loved it. The small little track along the river took people back. The fun of the day and the celebration of dad gave us a little break and allowed us to make a little trip back to simpler times. – These days I'll remember forever.
There's too much emphasis on big money buffets and top-price seating. Gone are the way of simple games, coloring books and pony rides. – The doors just open and you hope people come. – I can still see the interns having fun with the kids, and our advertising partners putting on a show of fun and frivolity. Simple times they'll always remember. It's been 10 years since then and I can remember each and every one. I doubt I'll forget seeing the crowds and families rolling through the doors. – It was a simpler time that made an enjoyable day for all. – It's not the big maple tree and a family picnic, but the days spending time with the families was the best work we could ever love.