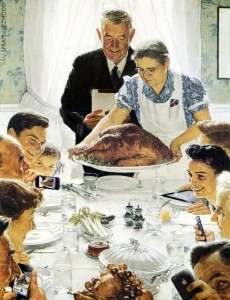 Norman Rockwell would be at a loss for artistic creativity in the year 2020. The COVID-19 Pandemic has changed the way we'll see life for many moons to come. With daily projections skyrocketing and states locking down little by little. Even grandma would be hitting the eggnog or holiday punch long before dinner was served. This year has changed my way of thinking. No longer will I hold that grudge, look to have the last word, or make plans that never get done. – I'm grateful for many things, and most importantly the opportunity to un-do some things that I've been putting off.
I got a call from an older friend to meet him at a local OTB. He just wanted to bullshit and play some horses. Sometimes it's the smallest thing that keeps us on track. I agreed to come, but asked what's up? – He was down in the dumps as his daughter just canceled Thanksgiving. He was all ready to dress up and spend the day trying to watch football with two grandkids and his family. Not that football is such a big deal, but the meal served with love was what he was looking forward to. "I really don't like turkey, I'm a chicken man. But, when she goes through all the trouble, I like to enjoy my family time no matter what's on the plate – This year, It will be a P&B loaf sandwich and chips watching the games at home."
Knowing I wouldn't see my friend on the big day. I pulled up to his favorite chicken joint and asked for a bucket of his favorite spicey bird. Double-breaded and fried to golden goodness. I even asked if the biscuits could be wrapped separately, and ordered him two family-size sides he loves. – He had a full day spread he would enjoy second to being with family.
I put it in his car as he always leaves the doors open. – " Hell, let em' take it. It might not make it to the corner." – I stayed just one race as he was about ready to call it a day. I was there later than planned, but the wait will be worth it. – I just received a call thanking me for his dinner; as he was already making plans to have a little now and a bigger dinner tomorrow. " I knew it was you. Who in the world would have known what I like for dinner." – He gave his friend money to make some bets tomorrow; watch the horse races on TV, football galore, and enjoy a tasty extra spicy meal. Not a bad day for Thanksgiving in the time of COVID.
As I drove home I felt good. I knew he'd be happy and I'm sure he'll get to the P&B loaf sandwich around the 4th game as a snack. – As I was driving I started to think of the many little things we sometimes take for granted. Here are some of the things this handicapper is truly grateful for during this crazy time and days to come.
 I'm thankful my family is alive and well all things considered.    We're all a little older, but that's the idea of living a long full life. Love to all.
 Many friends who have helped me over the years, spent time with me and were there when things were tough for me.  Thank you.
 I'm grateful for having a job to go to, and working in racing is extra special for me. Thank you.
 I'm grateful for a son who is doing a pretty good job handling the crazy lockdown stuff. I know it's been hard, but when we come out the other side. He'll be on his way for his junior year in college with real classes on campus. You've had some wild moments, but I'm sure I would have done much worse at your age. Love you, and very proud of you.
 It's good to believe in something bigger than yourself. – I'm very grateful for stable health and happiness.
As we'll be grilling monster rib-eye steaks, garlic mushrooms, baked potatoes, and my son's favorite dessert of red-velvet cake. We're doing pretty good for two bachelors on Thanksgiving. – It's not the norm, but what is this year? – Be grateful for what we have and look forward to a fresh beginning coming soon. Take the time to do the little things you've been putting off. – I'll be watching football, the marquee races, and enjoying the company of my son. – From your friends at Winning Ponies, have a safe and Happy Thanksgiving. We'll see you in the winner's circle soon.