In the meantime, we get to watch and wager on tracks that are still conducting live racing. Not bad. It could be worse; we could be watching re-runs of M*A*S*H for the 1,000th time. – So enjoy the races and build your bankroll. You'll be glad you did once the world opens up again. I have a homework assignment for you. – Take a few minutes and think about what tracks you'll be visiting later in the year. Will it be a major oval, or just a fun day at a county fair. – You've got some time, so put it to good use.
1. – Keeneland
I can't wait! – It will be like walking into Yankee Stadium as Keeneland is unique and beautiful. – If you haven't made the trek. Put it on the bucket list.
2. – Indiana Grand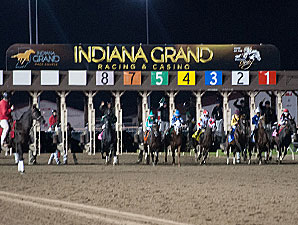 My Dad and I used to go up and hit a night at the races. – I'm gonna grab him up and take him for live racing. – His birthday is June 9th and I'm sure we'll enjoy the ride.
3. – Van Wert Fair
It will take place on September 1 – 7th and racing will be on tap. – I have heard from racing friends this will be a day well spent. – Friendship, food, and racing. What more could you want? – I'm hankering for a deep-fried corndog!
4. – The Red Mile
Established in 1875, the red-clay surface has seen some of the best in Harness racing take the track. – I absolutely love this place. So many memories and I can't wait to return. Especially in the late summer/fall as you'll see the best in the world with the Grand Circuit meet.
I'm gonna take more time to enjoy the sport. – No rushing around, but slowing down and taking it all in. – Life has changed for all of us and there is a feeling of gratitude. I've noticed it on little trips to the store, gas station, etc. People seem a little more kind and smile without looking at a cell phone.
Racing is a way of life for many, a career, and the most exciting sport to watch and wager. – Yeah, it's fair to say I'm really going to take my time. I've always enjoyed the game but I can't wait until the fans are allowed to return. For me, they've been the lifeblood of making the sport great. – If you find you have some time, download your E-Z Win Forms and watch live racing on FS1, NBCSN, or TVG. If you're playing from home, the computer can put you right on the rail to enjoy the action. – Winning Ponies is ready to make your day at the races enjoyable and profitable. – So, plan ahead for this weekend and download your E-Z Win Forms to start building your bankroll. – Be well, be safe, and best of luck from your friends at Winning Ponies!