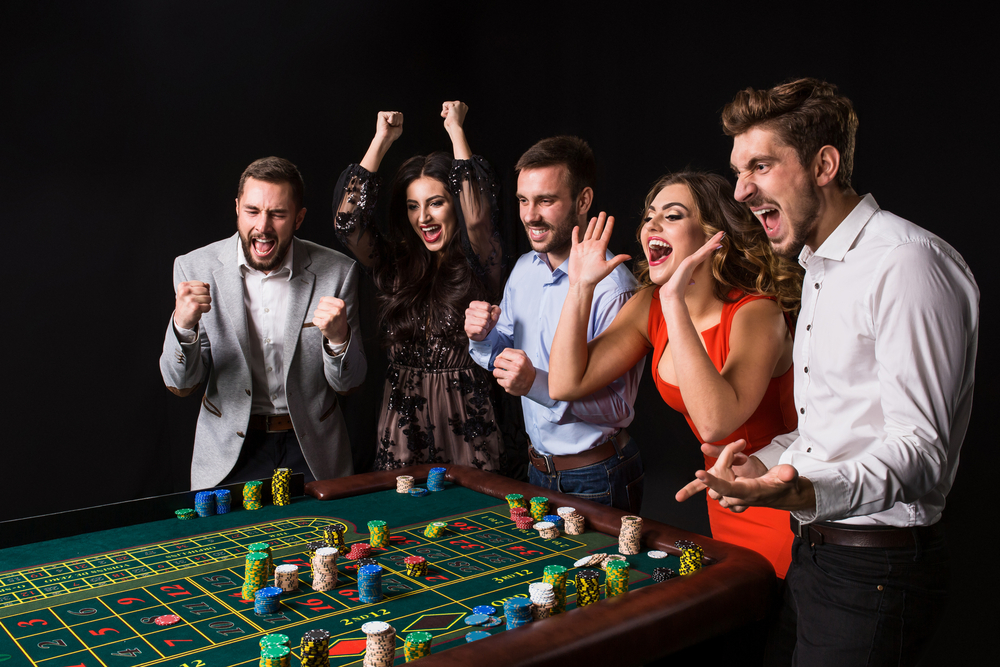 The names are all the same, and no matter which, it all means the same to a degree. Well, sort of. – As we ventured in long ago to a world of full-card simulcast wagering, VLT's, Historical Gaming Machines. The landscape has changed quite a bit.
Guest = Immediately I get the mental picture of inviting someone to your home for dinner. Friendly and fun. But, when it comes to betting money into slot machines, VLT's, or anything else. I really don't like the term. We didn't invite you in to lose your dough and hit the doors happy to be invited. This is sanitized for your comfort, and it removes the evil word of gambling. If you are "playing," you're frolicking, hanging with friends, and have that golden look of a happy couple high-fiving while winning $3 on every poster showing the fun of gaming as our guest. – Gambling is legal, it has been a part of our history, and since the Roman soldiers rolling dice in centuries past. It's really fine to use this word. It's not evil, and you have the ability to seek your own entertainment for your discretionary dollar.
Player = This is someone who uses your loyalty card to accrue points to win a waffle maker, beach blanket, or a grilling set. – Fun times for sure. – But after examing the cost of what it takes to gamble to win your NFL ball cap. You're grinding about $500 in and out of your favorite machine. Not giving advice, but it would be much cheaper to purchase the $20 cap and wear it with pride. – This is a dangerous perceived value and can send you to the doors not feeling as special as the guests.
Bettor = This is basically a gambler who is cherished as they hammer away on machines and don't ask for anything. – They may ask for a buffet or two and hit the cheap food counters fueling up to rumble back to the machines to bang on the buttons until the sun goes down.  This gambler is a low maintenance player. They usually ask for something to eat so they don't have to leave the facility. The casino/racino loves these folks.
Gambler = I cam remember the track being filled with these folks. Cigar chomping, and standing in a line to bet with smoke wafting through the air. Loud and energetic. It immediately grabbed me to be a part of the fraternity. – It spoke to me and I loved it from the first visit. People were there to win money. Plain and simple. – No harm, and no pretense.
Some of the best friendships of my life came from knowing gamblers. We were all there for the same reason and it was all good. – You shared knowledge and got to know people. – These are things you won't see at a slot machine unless you count the lady playing three machines at once and craning her neck to watch how you're doing. – They are not creating friendships, but jealously hoping she was the big winner next up. – This never caught my gambling soul. I liked knowing people and being there for the same reason. – When tracks started having loyalty cards to reward gamblers, it wasn't about winning a four-piece dining set. You could exchange your points for a free program, DRF, tip sheet, or even a betting voucher. It was a thing of beauty.
I've always liked the straight forward idea of not sanitizing the word to make you feel like you were frolicking in the park playing. No dressing up in your finest while you and a group of people high-five over a 50-cent win. – I love playing horses and gambling. The words denote someone who is trying to win money and not win a trip to a faraway casino to spend the house payment. – I've been a horseplayer for the majority of my life, and I'll probably play the ponies until the end. What a great journey. – I stay in contact weekly with other fans and gamblers as we share out stories about the big win. We go to the track and talk between races. Let me know the next time you find yourself in a deep conversation with someone betting a high-stakes poker machine. – I'm proud to be a gambler, and a little later today I'll be playing some incredible races from around the country.
See you at the races. – What are ya waiting for? – It's almost post time!