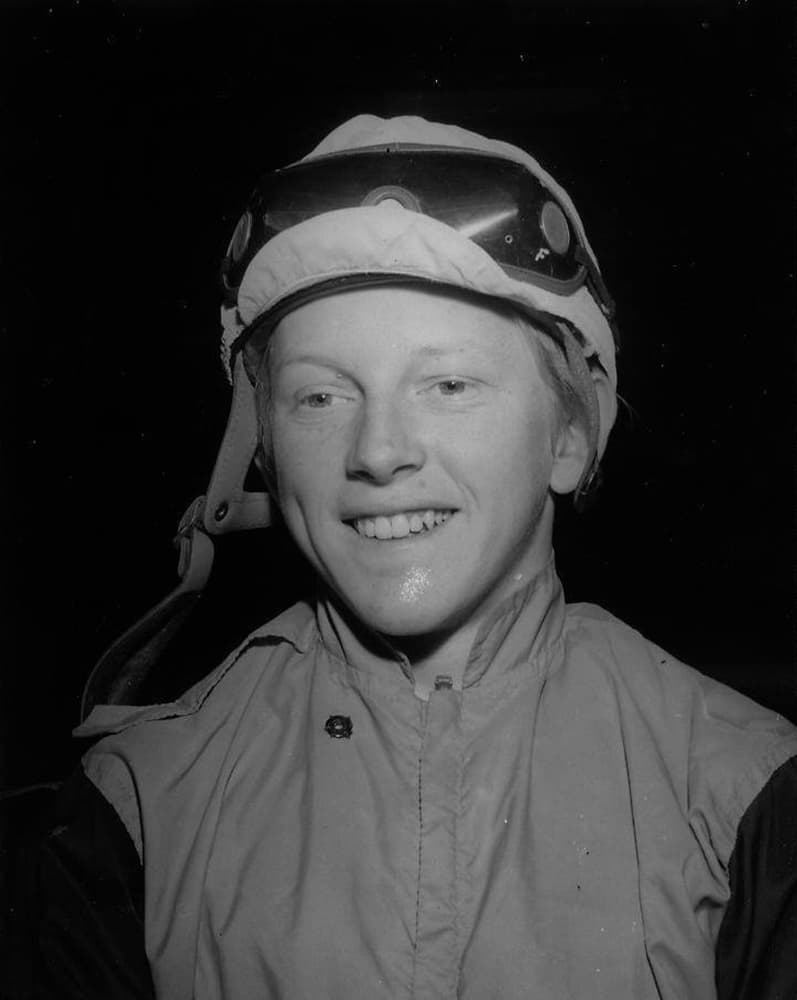 There are good, bad, and the ones you get early in the morning about purchasing a new car warranty. All serve a purpose, but when you have a face-to-face conversation with a legend of racing you tend to be all ears.
The door opens into the jocks room. Gently as it swings out and a small man enters the room. He doesn't say anything and just comes into begin his day. He's been doing it like this since Rablu. Just ask him, it seems like yesterday. April 2, 1973. The track was Beulah Park (Now an industrial park) outside of Columbus, Ohio. It was a cold rainy day, but the beginning of a career that many would be proud to hang their hat.
Perry Wayne Ouzts was born July 7, 1954, in Lepanto, Arkansas. He and a gaggle of cousins of which most if not all had a hand in horse racing. – It was 1965 and his cousin Earlie Fires was riding at Chicago. Perry was small and already had a love for horses. Being a jockey seemed to fit his liking as it seemed "like a cool job." He made his way mucking stalls in Chicago and learned about getting on horses. Over time, his confidence and ability grew.
Vietnam was going on, and Perry was a little nervous about what could lay ahead for him. As he turned 18-years-old he registered for the draft. He was 5 feet 1 inches and 95 pounds; a little lighter than the backpacks he would carry in war. – But had another calling of moving from Hot Springs to Chicago following in the footsteps of his racing family. In the spring of 1973, he was ready to race, and his love of racing brought him to Ohio where he would spend the majority of his career even to this day.
He can recall with great accuracy the weather of the day and loading into the starting gate. – Looking around as he hit the wire there was nobody else around. "It was like slow-motion, not in real life. And I thought it was a pretty good thrill." 
The very next day he rode nine races and won two races. "I got to thinking, this is pretty fun and seemed like a great way to make money. Who knows? Maybe I'll be like Willie Shoemaker." – As the meet went on, he continued to keep winning races. – He was the leading rider at his very first race meet. – With 7,316 career wins later, he is the 6th all-time winningest rider in racing. – That is where our conversation began.
As Perry walked into the room, I congratulated him on his three wins the day prior. He just nodded and quietly said, thank you. A man of few words who chooses to do his talking on the back of a horse.
I asked Perry a direct question. Something I usually stay away from as he's not a big talker and would rather focus on work. – "Perry, are you going to hang it up and head to the beach with your wife Toni? Or are you going to chase the record of David Gall for the 5th all-time leading rider? – Ed, I think I'm going to make a run for Gall's record." – This was about the most talk you'd get from Perry on any day, but he seemed pretty focused on this next goal as he had just passed career win number 7,300 days before.
Perry Wayne Ouzts is only 80 wins away from David Gall's accomplishment of 7,396 career wins. – With a little over a month in the Belterra Park meet, he'll shift his tack to Turfway Park where the rider colony is much tougher. But he'll still notch some wins over the cold winter. – I have a mental count going for the rest of the month and some winner's at Turfway, he'll pass David Gall next season at Belterra Park, which took the place of the historic River Downs that has faded into history. Belterra Park is his new home.
He'll be 69-years-young and move into the 5th all-time place in riding history. Kind of like having your own Mickey Mantle playing in your own back yard. – Perry is a quiet, humble, family man. His dedication is what kept him to task. His love of winning hasn't changed one bit from his first win on that cold spring day in Columbus, Ohio at Beulah Park. – His love for winning hasn't lost one bit of luster. If anything, he savors every win with a slow jog back to the winner's circle like a fine wine or an expensive cigar.
In the short time we spoke; many words were said without uttering a sentence. – He is focused and sees the goal. His love of winning is a thing to behold. The look in his eyes said all that needs speaking. Each win is like the first, and his dedication to being on the backside before sunrise is the stuff that winners are made from.
Perry, best of luck chasing down your next big goal. – One thing is for sure; we'll all be rooting you on as you cross the finish line that day. I wouldn't miss it for anything, and hopefully I'll be the one to call you into the winner's circle on this day.